Working with Your Client's Spirituality (and Your Own) in Psychotherapy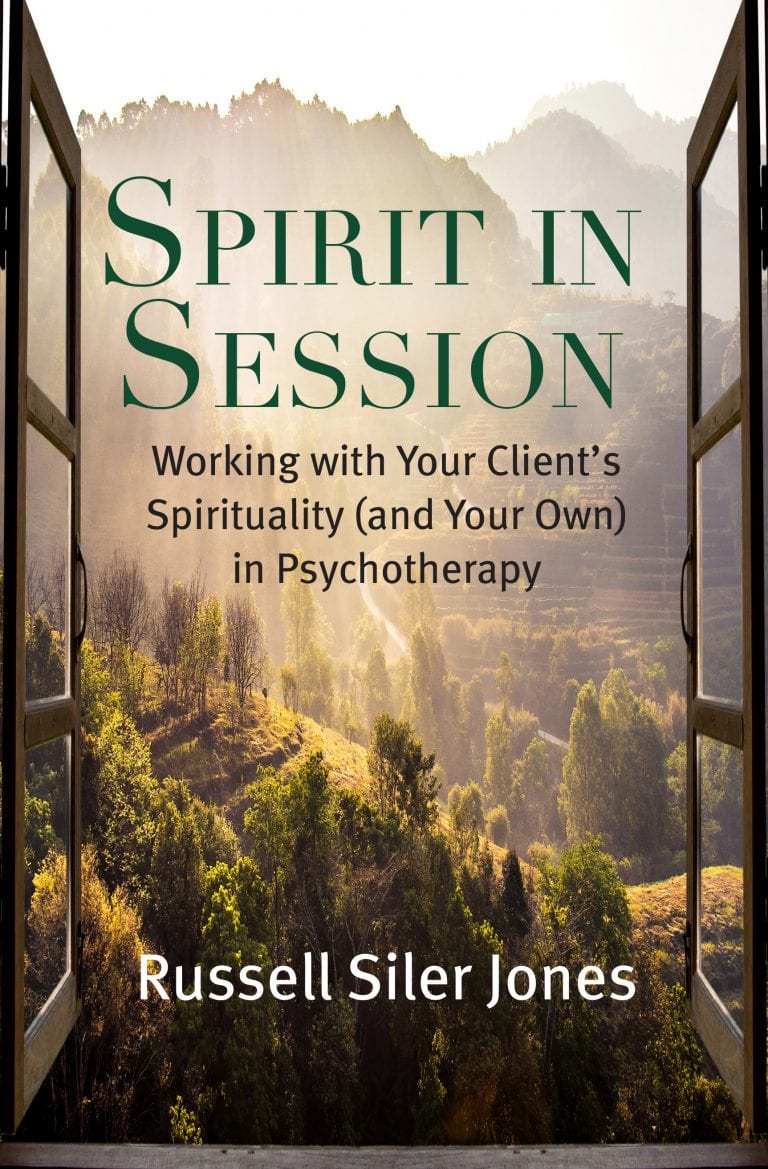 Praise for Spirit in Session
"In this beautifully written book, Russell Siler Jones offers practical advice to therapists on virtually every aspect of bringing spiritual discussions into their offices."
Richard C. Schwartz , PhD
Founding developer of the Internal Family Systems model of psychotherapy
"This eminently readable, compelling, and inspiring book takes readers—heart, mind, and soul—into what actually happens in spiritually oriented therapy conversations. Russell Siler Jones is a compassionate, committed, and elegantly simple mentor for therapists who want to help clients draw upon their spirituality in life-giving ways."
Carrie Doehring, PhD
Professor of pastoral care and counseling, Iliff School of Theology, author of The Practice of Pastoral Care: A Postmodern Approach
"Jones is a masterful educator and clinician who skillfully leads the reader through the meanings and methods of spiritually integrated psychotherapy.  His wisdom, warmth, humor, openness, faithfulness, and humanity fairly radiate from each page."
Kenneth I. Pargament, PhD,
Professor of psychology, Bowling Green State University, author of Spiritually Integrated Psychotherapy: Understanding and Addressing the Sacred
"Spirit in Session is an outstanding handbook for teaching. Russell Jones's exceptional mastery of both psychotherapy and spiritual inquiry guides therapists and their clients to discover spiritual encounters within the everydayness of routine psychotherapy sessions."
James L. Griffith, MD
Leon M. Yochelson Professor and Chair, GWU School of Medicine and Health Sciences, author of Religion that Heals, Religion that Harms
"I had no time for another book endorsement so intended to say no, but then I opened the first page of Russell Siler Jones's book and couldn't stop reading. Spirit in Session is a creative, warm, clinically-relevant look at how spirituality can inform the life and work of a psychotherapist."
Mark R McMinn, PhD
Professor and director of faith integration, Graduate School of Clinical Psychology, George Fox University, author of The Science of Virtue
"I loved reading Russell Siler Jones' wonderful book, Spirit in Session….I felt like I was having a conversation with a kind and wise friend who was sharing his experiences and wisdom in a warm and generous way."
P. Scott Richards, PhD
Past president of APA's Society for the Psychology of Religion and Spirituality, co-author of A Spiritual Strategy for Counseling and Psychotherapy
This book began in the woods.
I live in the mountains of North Carolina, just outside Asheville, and I spend as much time as possible outside. It's one of my lifelines, to be in the presence of wild things. I love the deer, the bears, the foxes, and the snakes. I love the peaks, the creeks, and the quiet. I love the birds, their joy, their vulnerability, and the way they fuss when they're annoyed. I love the trees, which are like elders to me. Trees live lives of dignity and service; they've seen it all and survived it; and when it's their time to go, they lie down and begin nourishing the next generation.
I was among the trees, running a favorite trail. It was fall, a sunny afternoon in gold and red late October. It was also a season of grief, four months after a major loss, and as is the way of grief, my outer and inner worlds were being roughly and tenderly rearranged.
I came to a gate that separates the woods from a pasture. I opened it, passed through from the huddle of trees to the open blue sky, and there it was.
Write a book about psychotherapy and spirituality. Write in the same plain, down-to-earth language you use when you talk with clients and friends. Make it practical, not theoretical—you're a therapist, not an academic—and pack it with as much clinical dialogue as you can, so people can hear what this work sounds like and feel less intimidated to try it themselves. Make it adaptable for use with almost any psychotherapy model. And write from your heart. Let it be a book that feels spiritual, so the tone of the book might be a match for the topic.
                                                             –  Spirit in Session, pages 6-7        
"You, yourself, as much as anybody in the entire universe, deserve your love and affection."